Our department had its first graduates in 1962. The number of graduates per year has increased from 25 to 200.
As of July 2019, it is possible to reach nearly 6200 graduates among ~8000 graduates via LinkedIn: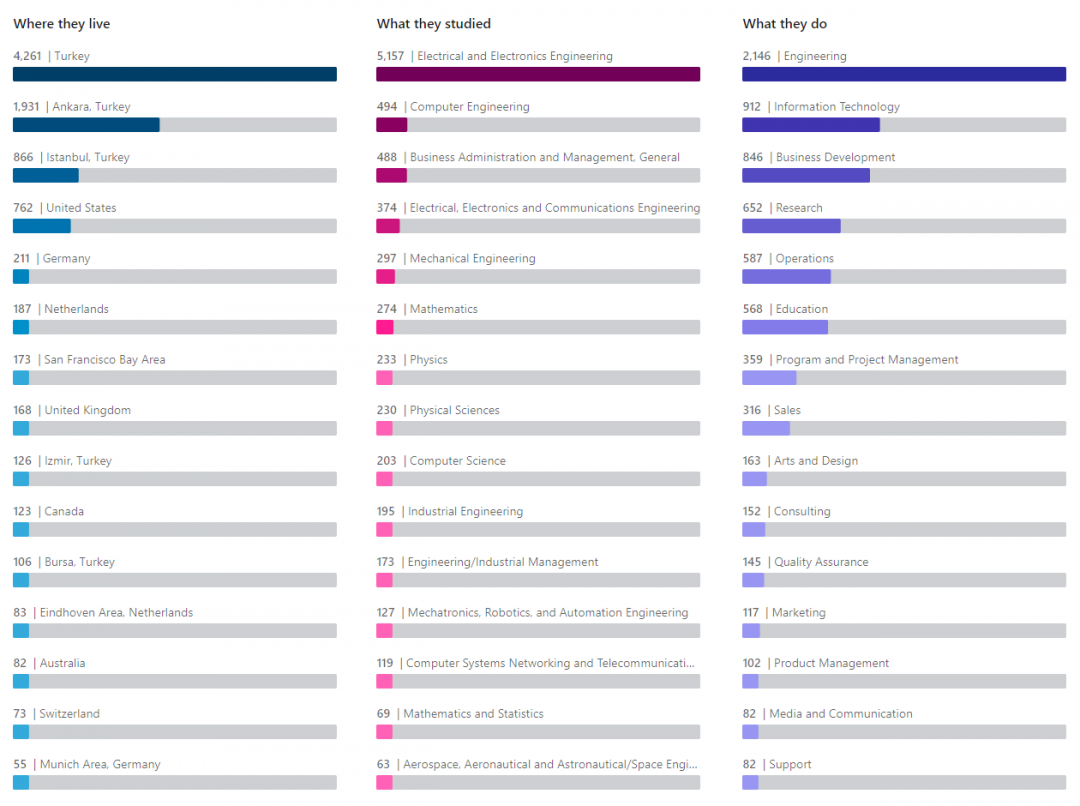 The results of the workplace survey conducted with the graduates of 2009-2013:
Statements of Graduates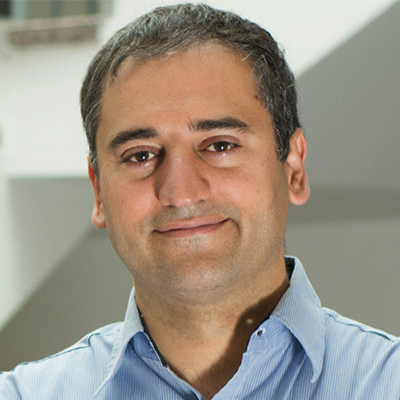 Mustafa Ergen, BSc. 2000
(Currently working at multiple companies and universities)
ODTÜ Elektrik Elektronik Müh. bölümünden 4.0 ortalama ile mezun oldum. Berkeley Üniversitesi'nde kablosuz haberleşme üzerine yüksek lisans ve doktoramı 2004'de tamamladım. Bu süre zarfında aynı okulun uluslararası çalışmalar bölümünden Silikon Vadisinden fayda sağlayan ülkeleri inceleyen tezimle ikinci yüksek lisans derecemi aldım ve HAAS işletme okulundan teknoloji yönetimi programını bitirdim. Doktora sonrası National Semiconductor şirketinin [şimdi Texas Instruments] "fellow" ünvanıyla aynı üniversitede akıllı sensör ve ulaştırma teknolojileri üzerine araştırma laboratuvarı kurdum. 2005 yılında Silikon Vadisinde 4. Nesil (4G) haberleşme teknolojisi üzerine WiChorus şirketini en iyi risk yatırımcılarından yatırımlar alarak kurduk ve 2009 yılında şirket başarılı bir şekilde Tellabs şirketi [şimdi Coriant] tarafından satın alındı.  2010 yılından beri yurda döndükten sonra kendi şirketlerimde, özel sektörde ve üniversitelerde çeşitli üst düzey görevler almaktayım. 2012 yılında doçent oldum. Girişimcilik ve yerli 4G ve 5G teknolojilerinde öncü çalışmalarım oldu. Bu zamana kadar otuz sekiz patent başvurusu, yüzün üzerinde makalem yayınlandı ve üç kitap yazdım; Girişimci Kapital: Silikon Vadisi Tarihi ve Startup Ekonomisi (KÜY 2015), Mobile Broadband: Including WiMAX and LTE (Springer 2009, Çince - PHEI 2011), Multi Carrier Digital Communications: Theory and Applications of OFDM (Springer 2004). ODTÜ kültürü  bana çok şeyler kazandırdı, özellikle uzun vadeli planlar yapmayı ve  ısrarlı bir şekilde odaklanarak çalışmayı öğrendim.
---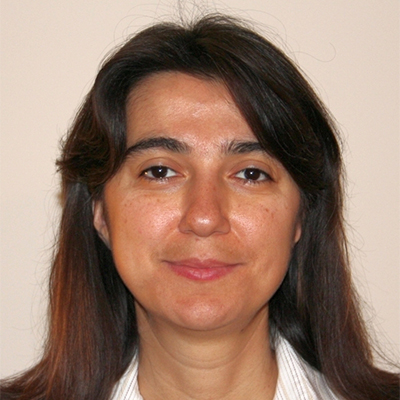 Ayça Topallı, BSc. 1994, MSc. 1997, PhD. 2003
(Currently employed in SONY, London, UK)
ODTÜ'deki ilk yılımda, bahar şenliğinde, üzerinde "METU is a life style" yazan bir tişört almıştım. O zaman anlamını tam kavrayamasam da sonraki yıllarda, özellikle ODTÜ'den ayrıldıktan sonra, o tek tümcenin ne demek istediğini, aslında her şeyi özetlediğini, iliklerime kadar hissederek anladım. ODTÜ gerçekten de bir yaşam biçimi. Sadece mesleki olarak değil, hayatın her alanında beni şekillendirerek yarınlara hazırladı. Yaşamaya dair ne biliyorsam, ne düşünüyorsam, temelini ODTÜ'de aldım, diyebilirim. EE'de ise, hiçbir şey öğrenmediysem bile, matematiksel düşünmeyi öğrendim, problem çözebilme yeteneğini kazandım. EE bana sadece sınavdaki soruları değil, ileride karşıma çıkabilecek her türlü mühendislik sorununu anlayıp çözebileceğime dair güveni verdi. Yirmi yılı devirdiğim meslek yaşamımda, çok çeşitli alanlarda çalıştım ama hiç zorlanmadım, ODTÜ-EE temelim sayesinde her türlü sorunun üstesinden geldim. ODTÜ ailesine yeni katılan arkadaşlara önerim, bu güzel yılların değerini bilsinler ve onlara sunulan bu ortamı, hem hayat felsefelerini hem de mesleki bilgilerini oluşturmada sonuna kadar kullansınlar. Başka ODTÜ yok, başka EE yok!
---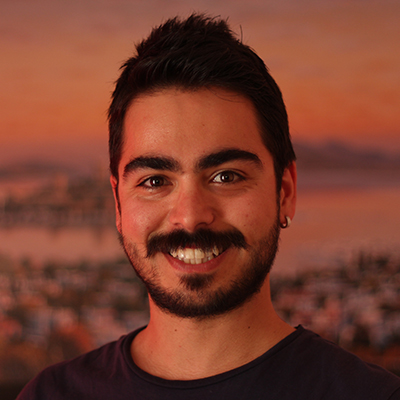 Burak Sefer, BSc. 2011
(Entrepreneur, Co-founder at Reengen, Istanbul)
My life at METU was a great milestone changing my life. I got advanced academic knowledge, as well as improved my personal skills with many other facilities. The main purpose at METU is to teach you how to learn by yourself and put what you learn into practice, which are very distinguishing skills that you use in professional and personal life. The years full of hard work in EEE, which comes from its more than 50-year broad experience, acknowledged expert academic stuff and the spirit in METU, turn into unique values that you carry with you in whole life. Necessarily, METU constitutes a great network in academy and business. In business life, it is very easy to distinguish METU graduates with their point of view, know-how and thoughts. After graduation, I had a great desire to establish a start-up, Reengen, with my friends from EEE by putting our knowledge into practice. It is clear that METU-EEE gives you great privileges which you can feel every moment in your life.
---
Tansu Daylan, BSc. 2012
(PhD. candidate in the Physics Department of Harvard University, MA, USA)
2012'de EEE bölümünden, 2013 yılında da fizik bölümünden mezun oldum. Şu anda parçacık astrofiziği alanında karanlık madde problemi üzerine doktora yapıyorum. ODTÜ'deki gerek elektronik gerekse de fizik eğitimimin meyvelerini burada topluyor ve ODTÜ'yü burada en iyi şekilde temsil etmeye çalışıyorum. Devrim'i de özlüyorum.
---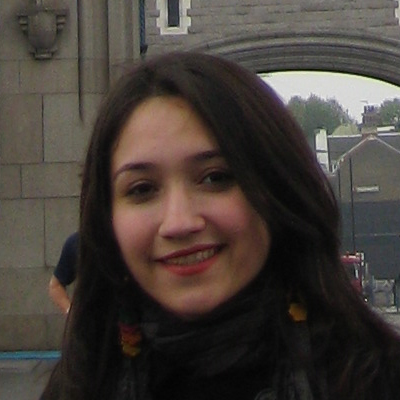 Burcu Yeni, BSc. 2011, MSc. 2014
(Currently employed in Aselsan, Ankara)
I believe METU is the only university in Ankara that can provide a thorough university experience for its students. Along with its beautiful campus, accomplished departments - ranging from engineering to social sciences, contrary to the "technical" term in its name - and more than a hundred different clubs or societies to broaden horizons, METU has much to offer both academically and socially. METU-EE is no doubt an engineering department where students have to work harder than many of those at other departments. The EE education is intense: the theoretical background is vast and the practical training is strenuous. However, I think with all the hardships of four years of undergrad education at METU-EE, one learns how to do theoretical research, apply theory to practice and learn how to "learn" without someone having to teach you everything, which in my opinion should be one of the many important goals of university education. I completed Microwaves and Antennas & Telecommunications options and graduated from METU-EE in 2011. I have been working as a Sonar Systems Engineer at Aselsan for three years. I did not receive any formal training in underwater acoustics save for an acoustic wave theory grad course during my fourth semester as a grad student. When I first started working as a professional, I did not face any significant problems concerning the mostly alien field of sonar and underwater acoustics. I was able to comprehend the theory and apply it to practice effectively. Also, with the help of the senior design projects developed and completed before graduation, I was also able to understand some of the most important parts of the job of a systems engineer: requirement management and risk analysis. All in all, I think METU-EE equipped me well enough to face professional life after graduation.
---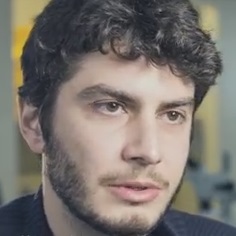 Emre Karagözler, BSc. 2004
(Currently employed in Project Soli, Google, CA, USA)
---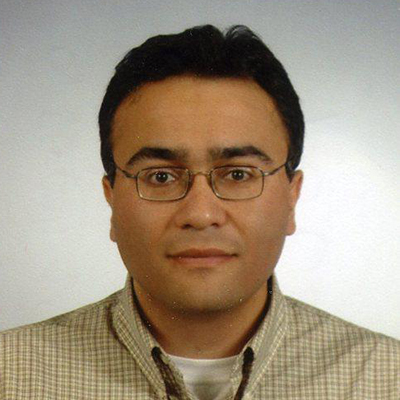 Dr. Selim Eminoğlu, BSc. 1996, MSc. 1998, Ph.D. 2003
(R&D Manager at Mikro Tasarım)